[Album Review] How Often Have I Been This Wrong? by Steadyfire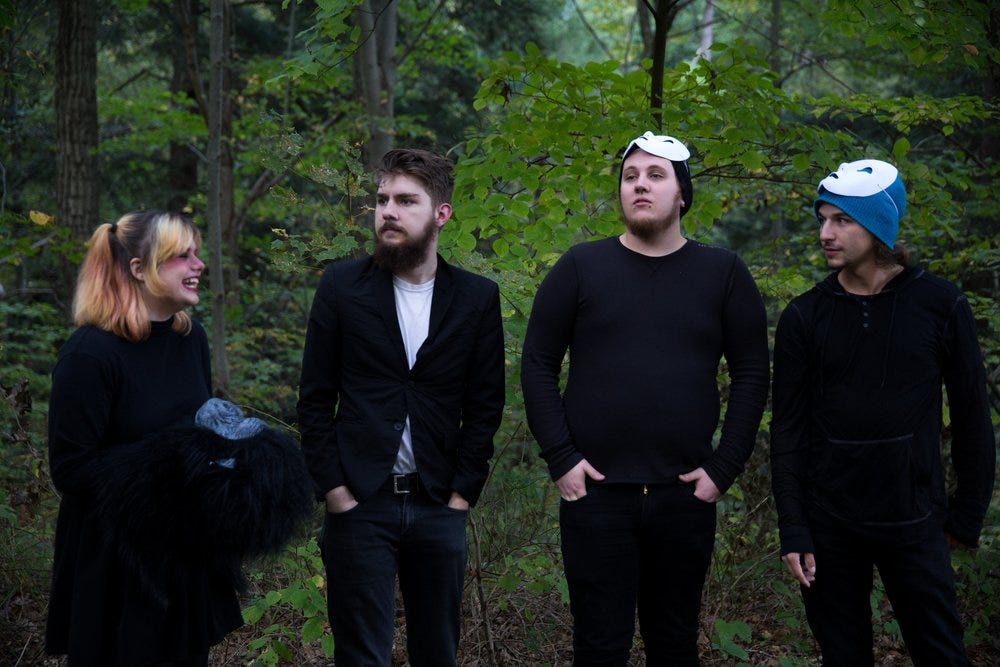 Even in the face of grown-up formality and legitimacy after signing to Modest Aeroplane Records, and in turn their debut LP How Often Have I Been This Wrong?, Cleveland-based emo revival group Steadyfire persistently glow a refreshing youthful sheen. Admittedly, in a world where music is increasingly surprise-dropped and reactionary, and our own thoughts matching that velocity, writing an Alternative Press-style piece on indie rock music years-in-the-making in 2019 seems quaint, and shamefully outdated. Oh, How Often Have I Been This Wrong?
Full disclosure? Multi-hyphenate frontman Gavin McIntire and I are friends. We're as friendly as friends can be, talking online multiple times a week on numerous mediums about our work and lives — it never mattered much to me that our friendship didn't (and perhaps, doesn't?) exist divorced of the Internet and non-IRL interactions. Though, in the years since the fallout of my admiration for Weezer, and the glee I once felt for defending Rivers Cuomo's eclectic approach to obsessively cracking the Top 40 pop formula; Gavin would hit me up to keep that conversation, among many others, going.
Steadyfire was formed in 2014, with McIntire as the sole overarching member between its two eras; prior to — and then following — the 2018 inclusion of bandmates Nick Billinghurst on drums, Garrett Pavlansky on bass, and Jade Marié on synth; with the latter two each providing complimentary backing vocals to McIntire's introspective and solitary lead.

The influence of Brand New, Manchester Orchestra, and trace amounts of the most potent of Weezer's candy-crunch synth-rock sensibilities are apparent, sure, but any chest-puffing of emo-academia machismo misses Steadyfire's point and many other points. There's no indication within the 45-minutes of How Often Have I Been This Wrong? that its performers or lead lyricist need any schooling. The keen self-awareness of their semi-ragtag beginnings is entirely part of the charm. Steadyfire, from their low-budget costumed music videos to their more heady and grandiose instrumental breaks, tucks their influences safely in the breast-pocket of McIntire's suit jacket and just has fun doing the damn thing.
Yet in a new, uncharted era like 2019, there's not a ton more worthy of celebration than that, and thankfully it's an adventure McIntire & company wish for me and you to join together with them on.
Even in my most shy and ashamed about my own musical endeavors and the irrationally perceived successes and failures of each release, I do credit Gavin personally for keeping a — ahem — steady fire under me and my passions. My own music has yet to see a formal album release since I was eighteen-years-old, incidentally just as old as McIntire was for the majority of recording of How Often Have I Been This Wrong?
The confident vulnerability displayed in the pop-single "Even If We're The Same" and perhaps my favorite track "Like Before" is plainly not unlike that of some of the most prominent musical voices in the landscape today. Even upon initial listens, the ideas and intricacies of the album are still unpacking, making themselves at home in the attic of your mind. Specifically, right next to the old Halloween costumes and band tee-shirts you're rightfully reluctant to simply give away. As a piece of music, it's going to stick with me for quite some time.
Part of me often questioned, and I'll continue to wonder, if this piece — if writing about Gavin or Steadyfire — would be biased or hyperbolic, given our friendship. Dare I give a journalistic, high-nosed dissertation of my friend's rock band? Conversely, is it even interesting? Is indie rock music still interesting?
Is "journalistic integrity" really what I, my writing, or even art in general is about? No, not really.

I write about the things I care about, and that can be (and has shown to be) wildly vast and diverse, but nevertheless ultra-specific and necessarily nuanced. I want to celebrate as well as examine the art and relationships that impact me the most. Steadyfire very much fits that bill. So, with that, I implore you to give the record How Often Have I Been This Wrong? a spin, or at least a muted-but-still-monetizable period of uninterrupted Spotify streaming. Not only out of support for Ohio-based indie rock band Steadfire, but even just for the concept of Anywhere-based indie rock bands in general.

If the streaming age of music has taught us or the industry anything, it's that music is not consumed like a sandwich. You don't just buy it once, indulge in it, and move on, much to the chagrin of the 18-month pop cycle. Nor is it something that exists purely on vinyl, or attending a concert in person.
Music, like all art, belongs not on a shelf but in our hearts. Digital libraries, physical bookshelves, none of it really matters without the art or the impact that that holds. It's the relationships — physical and digital — we keep with art and artists that make them worth talking about, and a friend of mine just put a great record out.
Stream How Often Have I Been This Wrong? By Steadyfire now on Spotify — or support the band directly through BandCamp.
If you would like to submit your music for review, send a thoughtful, link-filled email to t@tylerscruggs.com
---
Tyler Scruggs is a writer and musician living in Atlanta with his partner Mark. When he's not churning out internet content, he's paying too much for coffee and buying movie tickets weeks in advance. Feel free to validate him on Twitter (@TylerScruggs), Instagram (@Scruggernaut), and YouTube.