Ant-Man and the Wasp is a High-Concept, Mediocre Disney Family Sci-Fi Film
And that's extremely my thing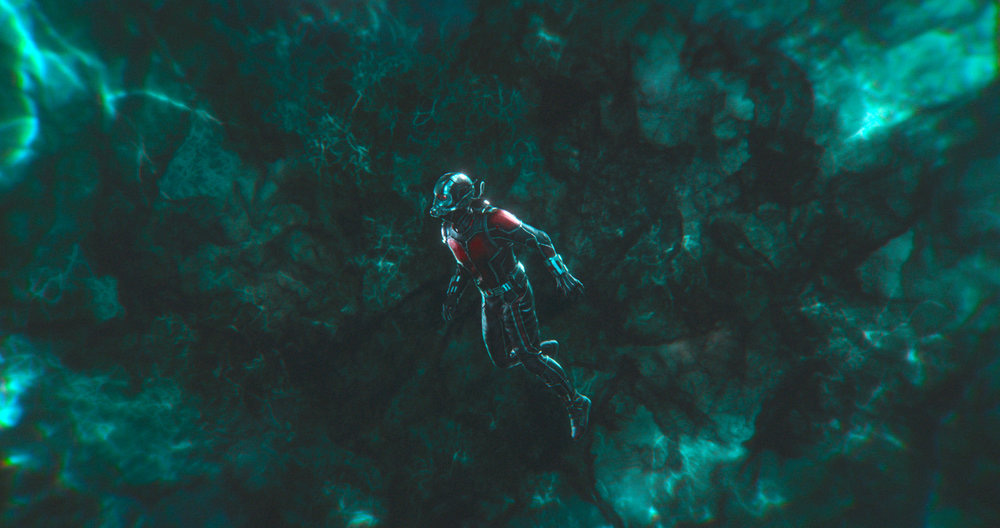 I decided to wait a bit on my Ant-Man review because I am in the unique privilege of not running a film-focused website, so I don't need to meet a deadline or rush it out opening weekend. So I don't, which makes me happy! This makes this clickbait, you're here because you want to be stuck in the Quantum Realm with me and talk about Ant-Man, and that also makes me happy!
It also means I get to be a little spoilery (but not yet!) and maybe a little more thoughtful, so I'm hoping to apply that freedom now to perhaps the plainest, by-the-numbers Marvel Studios movie in some time, and explain why.
First, to those like me who idiotically keep meticulous track of how Disney Summer Sausages -- I mean Blockbusters are made, you know that the original Ant-Man was a bit of a hodgepodge. And if you don't, you may still have among an array of feelings on the film, but generally, the first Ant-Man film was well-received, a modest hit by Disney-Marvel standards, and an overall good time.
Ant-Man (2015) blend of nine years (!!!) of pre-production visualization from action auteur Edgar Wright (Scott Pilgrim vs. The World), quick revisions from comedy directors Adam McKay (Step Brothers), Peyton Reed (Yes Man, and the eventual director of both Ant-Man & Ant-Man and the Wasp), Paul Rudd, and Earth's most extensive entertainment company in the midst of building cinema's first extensive long-form storytelling structure through the highest-grossing franchise of all time. Something had to give (and we'll always be a little sad for it, Edgar), and what was left was a tonally bipolar but ultimately inventive, charming film that serviced the Marvel Cinematic Universe as a whole, but may be a weaker film for it.
Now, with a more singular (or at least less chaotic) vision for this year's Ant-Man and The Wasp, did the stability help the film? Especially after the dour note Avengers: Infinity War left on? Well, sorta!
Paul Rudd, Michael Douglas, Evangeline Lilly, and Michael Peña along with the entire X-Con gang return for the sequel. In fact, it seems as though everyone but the antagonist from the first film returns, and that's kinda different from most Marvel movies. Now that there are 20 of them (yes, 20), it's apparent some of them carry certain patterns, traits, and tropes. And even among continuations like Iron Man 2 and Guardians of the Galaxy Vol 2, Ant-Man and the Wasp is the most sequel-feeling of all the Marvel films.
That's because it's very much 'more of the same, but better,' unlike the drastic departures in tone and feel between the Captain America films and Thor sequels. Ant-Man and the Wasp decidedly, and perhaps tragically, is not balls-to-the-wall insane or inventive like Taika Waititi's Thor: Ragnarok. And had Marvel obtained its 2017 confidence when Ant-Man was in production, it would've likely produced a more memorable result in the process, with or without Wright at the helm.
But even with the global dominance of Black Panther and Avengers: Infinity War, Marvel, and director Peyton Reed chose to remain...small, instead focusing on the tone of 90s VHS Disney Family Chase Films™️like Honey, I Shrunk The Kids or Escape From Witch Mountain or even Tomorrowland. It's the kind of high-concept sci-fi that isn't entirely well-executed, but simply delectable to me because of the sheer inventiveness that can arise when creative people are given hundreds of millions of dollars to make crazy, unbelievable things all the more believable.
I call Ant-Man and the Wasp a mediocre Disney sci-fi film as a term of endearment; it's among great company like The Black Hole, Tron, hell even this year's A Wrinkle in Time had some great ideas even if they didn't quite make it to screen. Yet in all its weird, gross corporate-ness, Disney still is giving super creative minds the ability to manifest super creative ideas into existence. Ant-Man and the Wasp doesn't quite reach the wildly creative set-piece heights of Edgar Wright's contributions to the original film, but it's still a worthwhile family trip to the cinema, and those will always be in short supply.
Mild Spoilers Ahead
No one dies in Ant-Man and the Wasp. At least not before the first set of credits roll. Being that this takes place during the events of Infinity War, the first post-credit scene serves as a morbid cliffhanger, meant to catapult us into 2019's still-untitled Avengers 4. Obviously, we're all first in line for it next year, but I can't help but feel a sense of time-wasted after watching the film. Yes, I knew something to this effect would take place. But, why work so hard to make an intentionally palate-cleansing fun film, only to virtually undo it by killing 3/4ths of the main cast, however temporarily?
It's a minor quibble, and somewhat necessary, but in terms of audience experience, I think that scene, in particular, did a mild disservice to the rest of the film. Perhaps teasing the looming nature of Thanos' Snap would've given the film and ending a better sense of satisfaction. It just doesn't sit right with me.
Ant-Man and the Wasp (2018) 3.5/5